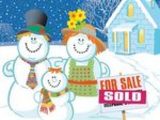 The common assumption is that the warmer months are the best times to sell a home. It's true that many buyers do plan their new home purchases in the spring and summer seasons but that doesn't mean all serious buyers vanish after Labor Day.
Thanks to reduced competition, motivated buyers and the cheery warmth of holiday homes, the housing market doesn't come to a freeze during the holidays.
Since most sellers take their homes off the market throughout the holidays and new sellers are waiting to list their homes when it warms up, less inventory means more buyers are steered toward your home!
Keep their attention by making sure your home is priced to sell and be prepared to close quickly.
Who Buys Now?
Among the serious buyers who look for homes during the holiday are:
People relocating for jobs.
Investors on tax deadlines.
College students who want to settle in before the next semester.
Military personnel transferred who will report here in the new year.
Decorate Tastefully
Homes show drastically better when they are decorated. Tasteful decorations, a roaring fireplace, holiday treats and warm beverages will help house hunters envision their own families celebrating the holidays in your home.
When you encourage buyers to spend more time in your home, you also give them more time to feel at home.
So, if you're hesitant about listing your home in November or December or you're waiting until spring to start your home search, you could be missing out on some great opportunities!
Contact me for more information on selling and buying this holiday season.
Are you starting your home search?
Looking to sell? Let us help!